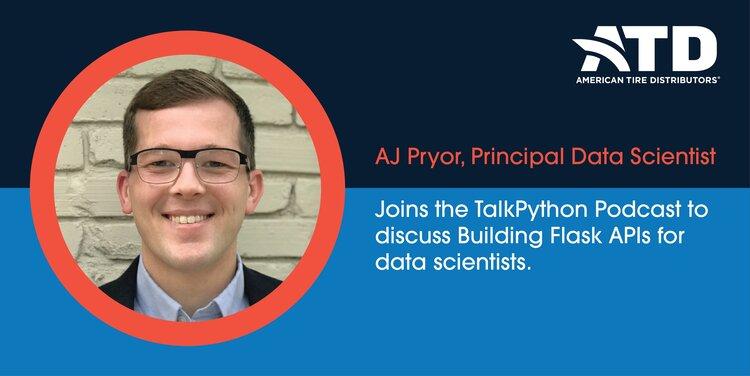 ATD's very own AJ Pryor, Principal Data Scientist, within our Advanced Analytics Center of Excellence (AACoE) sat down with @mkennedy of the @TalkPython podcast to talk about structuring flask APIs for maintainable applications.
AJ is a data scientist, full stack developer, and Ph.D. physicist with expertise in high-performance computing and software engineering who focuses on driving business value through conception and strategic deployment of data-driven applications. He believes in all things testing, is always halfway through some sort of online course, and spends perhaps too much time slacking his coworkers about interesting new technologies or ideas.
Listen to the podcast here and hear how ATD, the nation's premier tire distributor is disrupting the industry through advanced analytics.
Interested in learning more about how our AACoE builds data science applications?
At the upcoming Data Science North Carolina Conference 2019 — August 29–30, Join AJ as he shares a concrete example of this Flask pattern in action. He will also be discussing a type of optimization technique that is a key piece of several data science projects built by our AACoE including the Profit Optimizer tool, which uses the exact Flask pattern described in the podcast. Come hear firsthand how ATD is revolutionizing the tire and automotive industries with advanced analytics and enjoy a 40% discount with code AJP40.
You can also check out these other blogs outlining similar projects: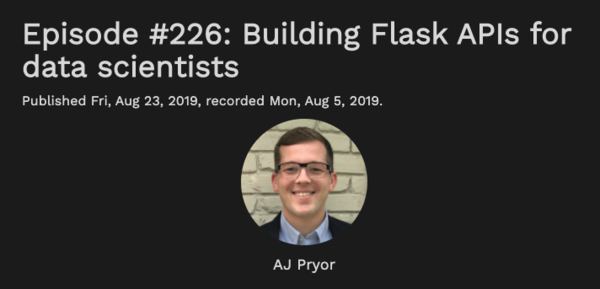 https://talkpython.fm/episodes/show/226/building-flask-apis-for-data-scientists
Featuring: AJ Pryor