May 2023
Torqata is proud to present Trends + Treads, a blog series that brings you actionable market insights in the automotive tire industry! We're dedicated to equipping tire and service shops with actionable data and analytics tools that can help increase profits, identify blind spots in the business, and optimize the supply chain.
For our next Trends + Treads post, our very own Jeffery Grubb, Business Development Manager, and 25-year automotive professional, takes our Q1 2023 wrap-up and breaks it down for you.
---
Jeffery Grubb — Tire retailers large and small! We know you're facing some challenges as we step into Q1 2023, but don't worry – we've got your back. We've got hard numbers from over 15,000 roof tops. Here are my thoughts on how these numbers affect your business. Let's keep your business on the right track!
Margin Squeeze
Tire Retailers of all sizes are struggling with declining profits due to high-priced 2022 inventory now selling at lower prices. How can you make sure your business stays profitable? Start by comparing your prices with local competitors and ask yourself:
How do my prices stack up against other retailers in my area?
Can I adjust my prices to stay competitive while maintaining healthy profit margins?
By understanding the pricing landscape, you can make informed decisions and adapt your strategies to keep your profits rolling.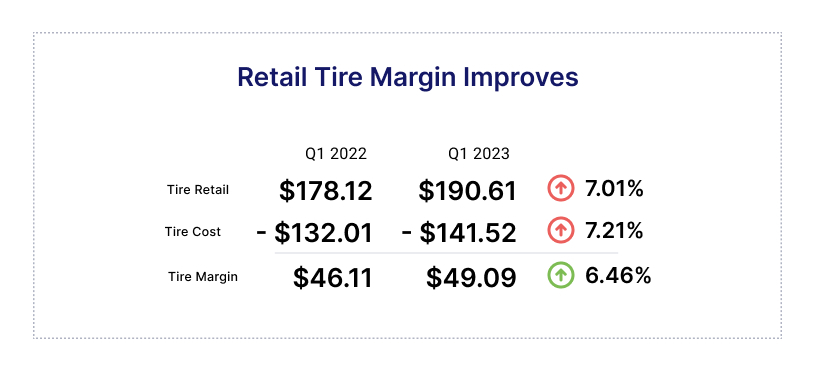 Revving Up Store Visits
Surprisingly, lower gas prices and increased Vehicle Miles Traveled (VMT) haven't led to the expected boost for in-store visits. How do you drive more traffic to your store? Your Service Writers must remind EVERY customer of the importance of timely tire maintenance and ask yourself daily:
Are we effectively communicating the impact of tire maintenance on vehicle safety?
How can we emphasize the role tires play as the sole point of contact between a vehicle and the road?
By addressing these questions, you can encourage customers to prioritize regular tire maintenance and increase store visits.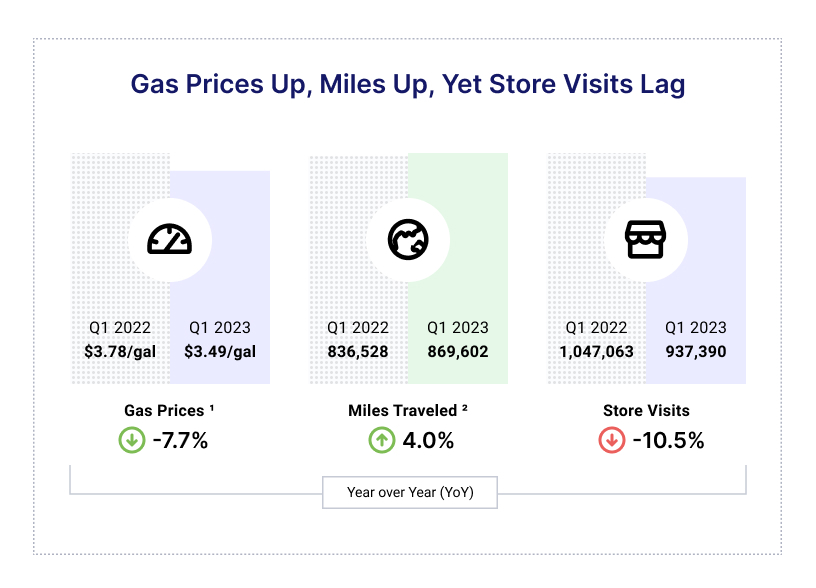 What do Regional Tire Trends have to do with you?
With a 10.5% decrease in store visits YoY, it's crucial for retailers to have the right mix of inventory to maximize profits. Regional trends are built from actual data on local retailer levels. And with tire volume decreasing across all regions, it's essential to know the factors behind these changes. Trends + Treads is based on actual data to help you stay ahead of the curve; consider these questions:
Does a report you read online from last year help you? Are you keeping up-to-date with regional trends?
Is your inventory tailored to match customer preferences in your specific market or in your Zip Code?
Where does my business stand compared to my competitors?
By staying in tune with regional trends and adjusting your inventory accordingly, you'll ensure you're meeting the demands of your market.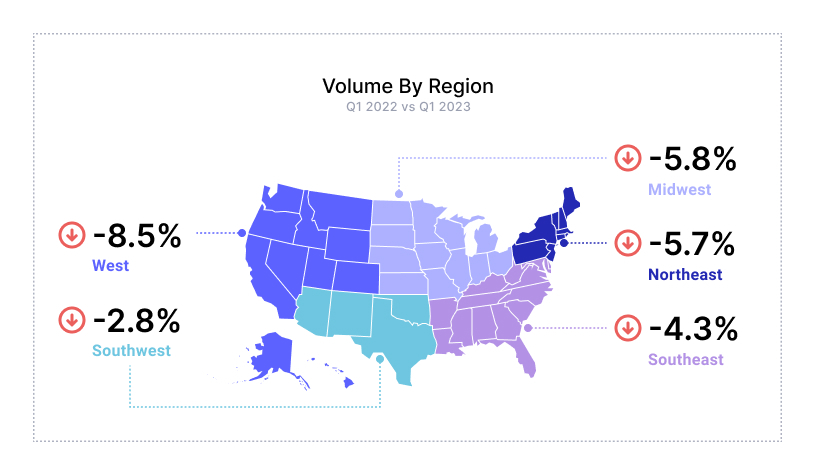 Tier 4 Tire Popularity
The growing popularity of Tier 4 tires is a trend you can capitalize on. It's no secret that shoppers are pinching pennies! You can say, "woe is me," or you can capitalize and make it an opportunity.
How do you make the most of this opportunity? Ask yourself:
Have you adjusted your inventory to cater to the demand for more affordable tire options?
How can you target your marketing strategies toward price-conscious customers?
What is the most popular size/tier/category in your market or zip code?
By addressing these questions, you can tap into the market for more affordable tires and drive sales.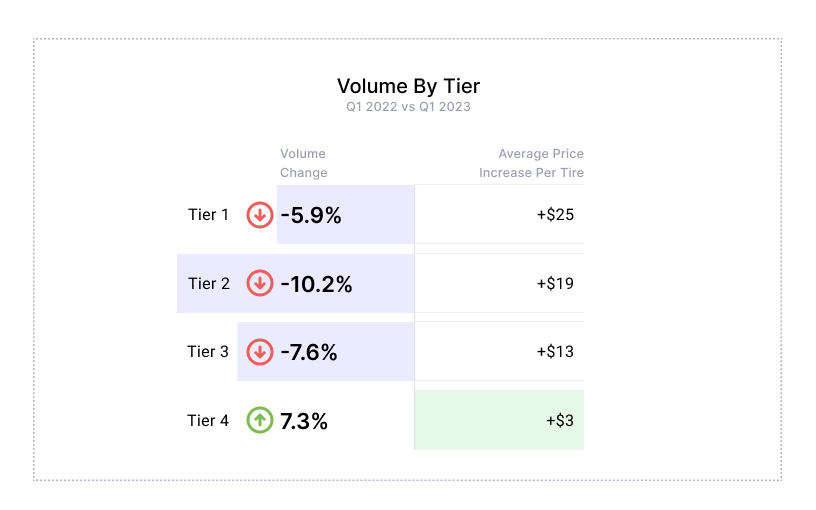 Tackling Volume by Category
Tire volume is decreasing across various categories; it is important to stay on top of this now, not later. You must know what categories are trending up as well. Consider the following questions:
Are you adjusting your inventory and marketing efforts to align with shifting customer preferences?
How can you better serve customers looking for light truck, SUV, or passenger car tires?
By monitoring these trends and adapting your approach, you'll cater to your customers' evolving needs and keep them coming back.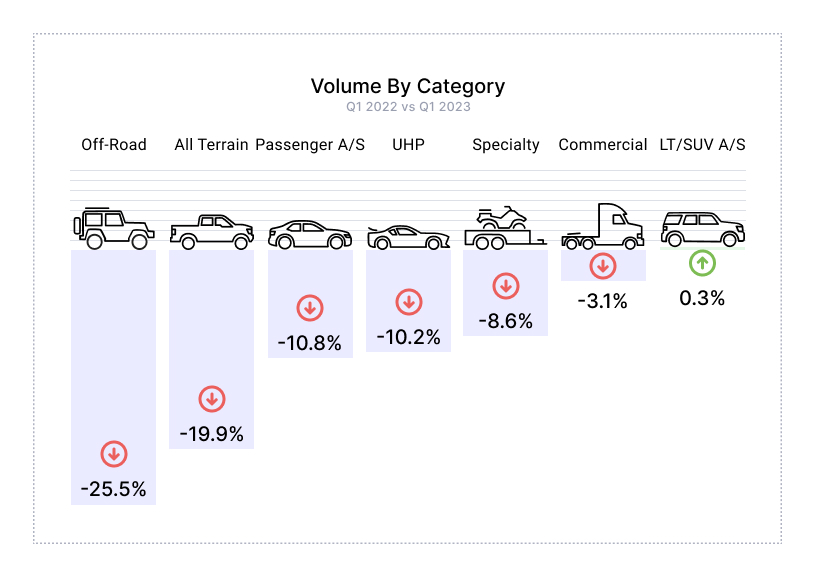 Data Doesn't Have to be Scary
Staying informed and using data insights doesn't have to be scary. You can navigate the challenges of 2023 and make decisions that'll help your business thrive. Let's embrace actual data, capitalize on what we know to be certain and drive your tire retail business to success!
---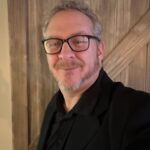 About Jeffery Grubb
Jeffery is a highly experienced technical professional in the automotive industry. Throughout his career, he has worked with a diverse range of companies, including Advance Auto Parts and Mitchell1, providing support to dealers, independent repair shops, tire dealers, and body shops.
In addition, he has been managing his own business in the technical field for the past 25 years With his extensive knowledge and expertise in the technical field, Jeff has successfully helped numerous businesses achieve their goals and grow their operations. He is known for his excellent communication skills, attention to detail, and ability to develop effective solutions tailored to the unique needs of each client. He currently serves as the Business Development Manager for Torqata Data and Analytics.
Where Our Insights Come From
Our exclusive insights leverage data from over 15 thousand tire retailers and 50 million tires sold, which we combine with our comprehensive catalog of 221 thousand tires. For more information on our tools, contact support@torqata.com or call 828-TORQATA.
Follow us on LinkedIn 👉 https://www.linkedin.com/company/torqata/